Our little Sunday adventure at Osmeña Peak yesterday resulted to a slight body pain but I'd have to say I took that experience to heart since it doesn't happen all the time. I'm so excited to share! Here's the story.. and the photos.
Our group of 4 left while it's still dark since we wanted to be at the peak by early morning. It was a 2.5-hour ride from Cebu going to Dalaguete junction where we had to stop to ride a habal-habal (motorcycle). When we got off the bus around 6am, drivers were literally swarming all over us that we got so confused which one to ride.
We paired up and decided to take the first motorcycle that parked in front of us. We would have to travel 18 kilometers (according to our driver) or 30 minutes to the base of the mountain where we're supposed to start our trek to Osmeña Peak or O-Peak.
It was a butt-numbing ride! It was breathtaking too! Figuratively and literally. We were so amazed (and thankful) that the roads are already fully cemented so despite the long travel, it turned out smooth and easy except for the occasional uphill climb.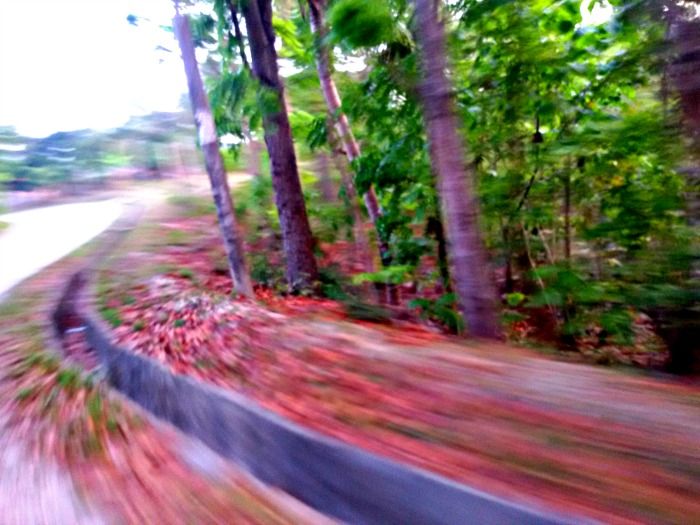 Imagine that I was snapping photos while on the motorcyle. It was like a scene on The Fast and The Furious but the scenery was so captivating! I looked to the left, right, and up. It's all beautiful. I wished I could stop the motorcycle.

I love this tree. I looked up and saw this. I couldn't miss the chance to snap a photo. I love it so much!!!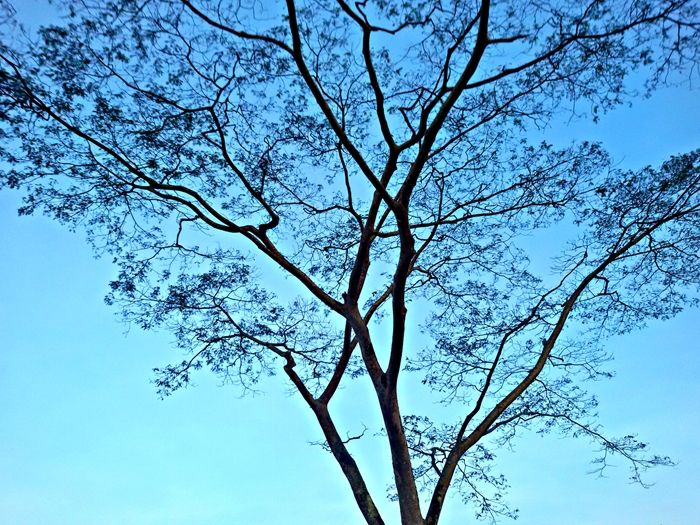 The sun was just rising on our way there. We would have loved to be at the peak by sunrise but it wasn't possible for us that time.
I can't imagine I snapped this photo (and other photos) while on the scene of The Fast and the Furious. LOL. It didn't look shaky or blurry but it was a challenge to take photos using a mobile phone while riding a motorcycle. I held on to my phone like it was my dear life.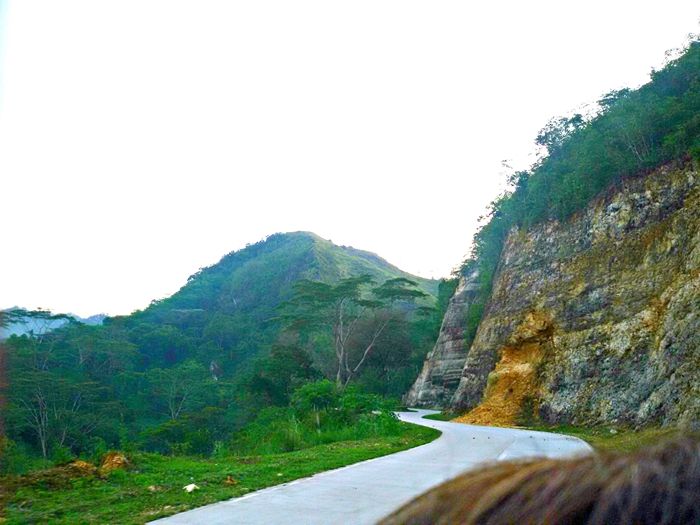 The sky is such a masterpiece! It's like saying,
you're almost there!
*This is their "gasoline station" along the way. Resourceful people!
Upon reaching the base of the mountain, we were greeted by our tour guide. I think he was in high school but there were other tour guides who were as young as 8 years old. You can choose not to have a guide though but there's the risk of getting lost or going the wrong path.
I looked back to how far we've traveled to reach the base. I could see the white road and the rest was whooaah. It was far! Really it was just 30 minutes but it seemed like forever.
And so the trek began. We didn't even warm up! But I've read that it's just a "short" trek and is definitely tolerable for beginners. Why not?!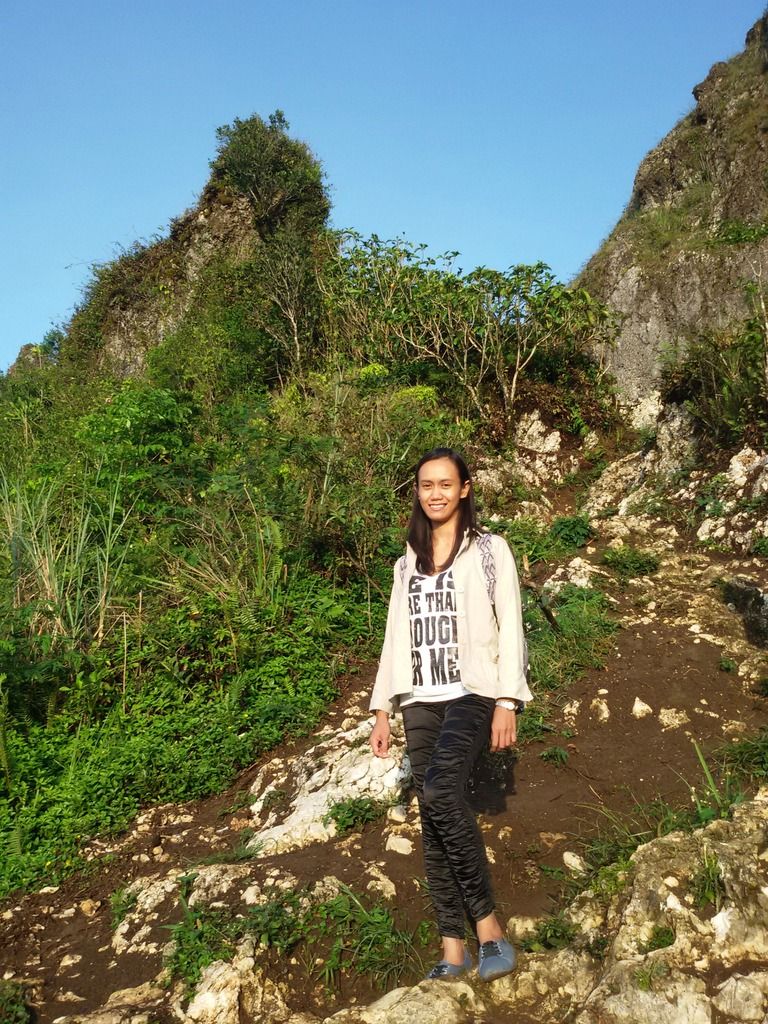 From afar, we saw some people already near the peak.
We passed by some limestones (I think). We were really cautious with every step because the path was a little slippery due to the rain the night before.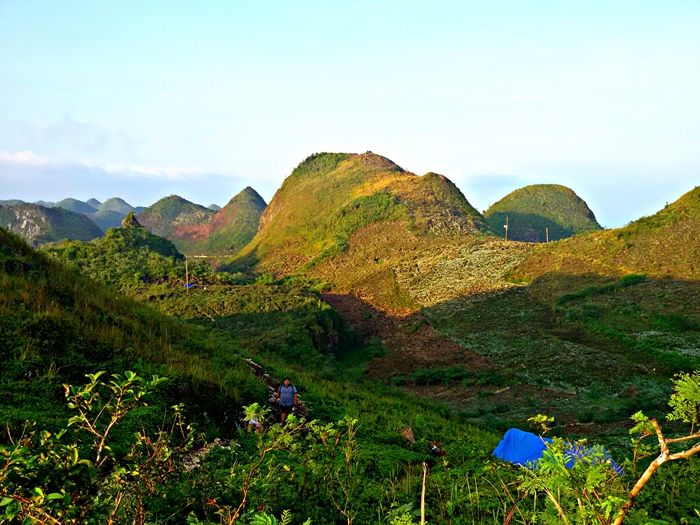 A gazillion tents at the campsite!!!
We were told by our driver that some of the campers went back to the base the night before because of the cold temperature.
Our guide pointed the peak to us. It looked so easy to get there if you're looking from afar. But eehhh, not really except maybe if you're a true blue mountaineer.
Some more limestones. I wanted to grab one but I didn't.. because I think they deserved to be there.
After a few more steps, we're finally up!!! It took us approximately 25-30 minutes. Hurraaayyy, we made it!!! Up there was a sight to behold. It's amazing!! And it was my first time to climb like that. O-Peak is considered the highest point in Cebu and I'm so happy I conquered it!
Look who's with me? Jhanis,
The Vanilla Housewife
! Because bloggers rule! :p
Let me tell you how I got there, I mean the photo below. Jhanis got there first. It looked scary. And it is if you're faint-hearted and afraid of heights. I didn't want to try it at first but when I did, it was fairly easy.. as long as you're calm and steady.
When my husband saw this photo below, I think he froze and said WTH did you think you were doing?!
Selfie from above. Guess where I was seated this time?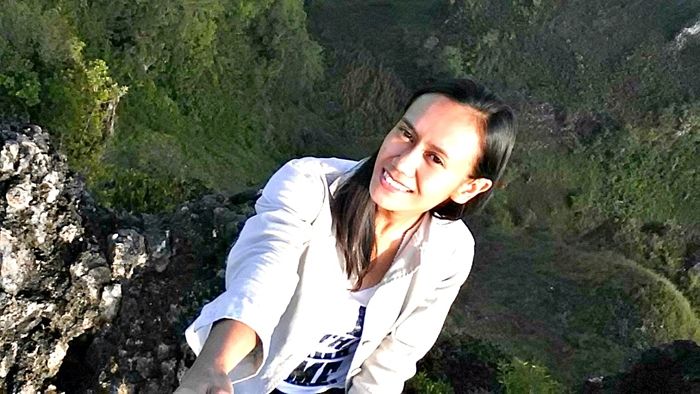 Here!!! Yeah right on top of that big rock in the middle. It was a nice feeling!! That was Jhanis down there, she went up first before I did. You can say I was following her lead. Hahaha!
I'm the queen of the world!!! It was really the adventure I needed to end this summer and to start the week with a bang (and with body pain). So liberating and super worth it, promise!
Thank you for reading!!! ♥
---
Osmeña Peak, Badian, Cebu
Cebu South Bus to Dalaguete Junction - 2.5 hours via Ceres bus; Php105 (one-way)
Dalaguete Junction to base of Osmeña Peak - 30 minutes via habal2x; Php200/person
(roundtrip; they will wait for you at the base)
*We paid Php100 to our tour guide. There's no fixed amount. I've heard that most people pay Php20 per person. There were 4 of us so we decided to just give Php25 each to our very patient guide.